ECOMATES First Training Days
November 23

-

November 24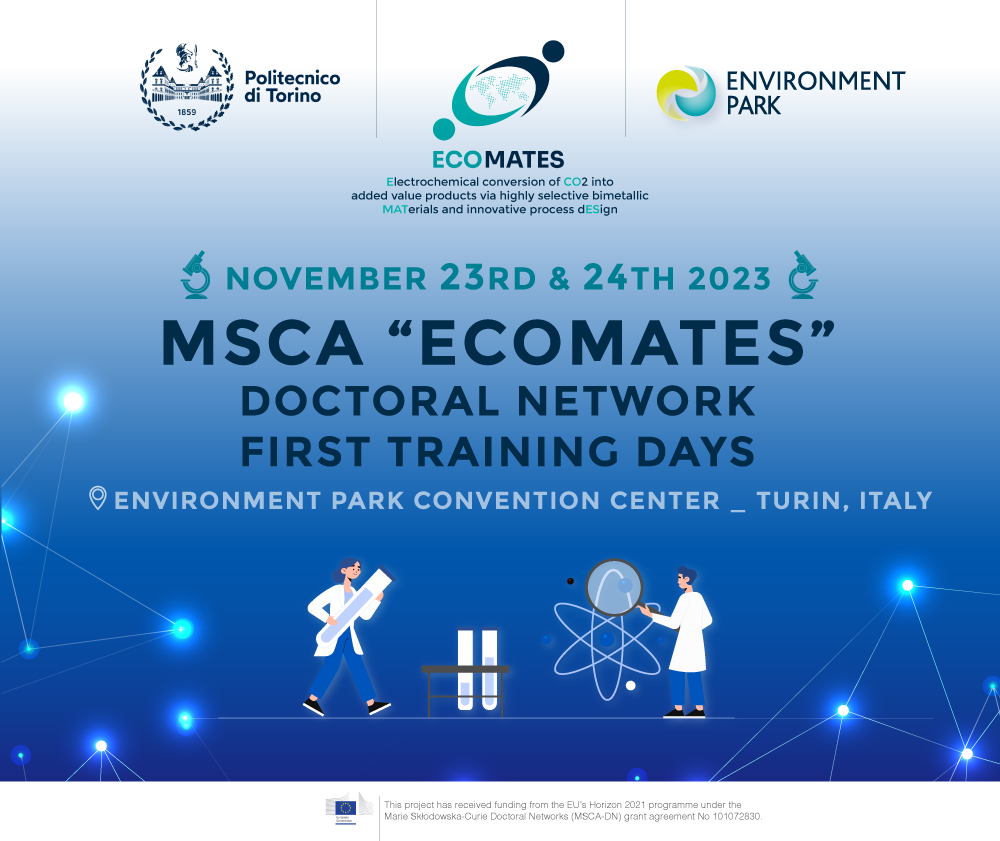 ECOMATES First Training Days – 23rd and 24th November, Turin.
The first training days within the ECOMATES doctoral network will be held in Turin on November 23rd and 24th, 2023. The event, coordinated by Politecnico di Torino and hosted in the splendid spaces of Environment Park, will be preparatory to defining and sharing the network's training objectives with all PhD students.
On this occasion, researchers will have the opportunity to get to know each other and start experimenting as a group; they will also present their individual research projects with the participation of their supervisors.
The work will take place within the framework of a two-day programme full of presentations and training sessions, with a focus on FUNDAMENTAL ELECTROCHEMISTRY during the first day and on the STATE OF THE ART OF CO2RR during the second day.
During these two days, the Governing Bodies of the ECOMATES project (Steering Board, Supervisory Board and Exploitation and Dissemination Group) will gather to discuss strategic decision for the network.
Below is the full programme for the two days:
THURSDAY, 23rd NOVEMBER 
| | |
| --- | --- |
| 08:30-09:00 | G. Cicero: ECOMATES Project structure and aim |
| 09:00-10:30 | All Partners: ECOMATES Partner and DC presentations |
| 10:30-11:00 |  COFFEE BREAK |
| 11:00-12:20 | All Partners: ECOMATES Partner and DC presentations |
| 12:20-12:30 | G. Cicero: ECOMATES: PCDP |
| 12:30-14:00 |  LUNCH BREAK |
| 14:00-15:00 | M. Re Fiorentin: Introduction to Electrochemistry |
| 15:00-16:00 | D. Voiry: Dynamic Electrochemistry |
| 16:00-16:30 |  COFFEE BREAK |
| 16:30-17:30 | E. Santos: Introduction to Electrolysers |
FRIDAY, 24th NOVEMBER 
| | |
| --- | --- |
| 08:45-09:15 | G. Cicero: ECOMATES Training Overview & Schedule |
| 09:15-09:45 | E. Santos: ECOMATES Data Management and Dissemination plan |
| 09:45-10:30 | H. Johnson: A brief introduction to CO2RR |
| 10:30-11:00 |  COFFEE BREAK |
| 11:00-11:45 | J. Zeng: Catalyst nanomaterials for CO2RR |
| 11:45-12:30 | F. Risplendi: CO2RR: stretegies to increase copper selectivity |
| 12:30-14:00 | LUNCH BREAK |
| 14:00-14:45 | H. Jonsson: CO2 reduction mechanism and the role of ab initio simulations |
| 14:45-15:30 | C. Chochos: Introduction to membranes and electrodes for CO2RR |
| 15:30-16:00 | All Partners: Open discussion: ECOMATES bimetallic catalysts |
| 16:00-16:30 |  COFFEE BREAK |
| 16:30-17:15 | All Partners: Open discussion: ECOMATES bimetallic catalysts |
| 17:15-17:30 | G. Cicero: Closing remarks |